August has always been sort of bitter-sweet for me.  It signaled the end of summer break and time to go buy new school clothes for my ever-growing son,  along with that we would alway try to squeeze in one last hurrah, even if it was only a long 3 day weekend. Those school days have passed by a few years now, but I still do feel August marks some kind of change in my attitude.  Sort of time to get back to work,  I said sort of..   Right now all I can think of is knitting.  Finishing my cardigan for Ravellenics and getting it off in the mail on time.   That and the upcoming retreat in September,  that is what's on my mind.
Last Saturday we had our August meeting. Minus Suzanne, minus Kate, minus Jacki, minus Laura, minus Renee….  all members who at one time or another have run the meetings,  I wondered, "Who is gonna be in charge today?"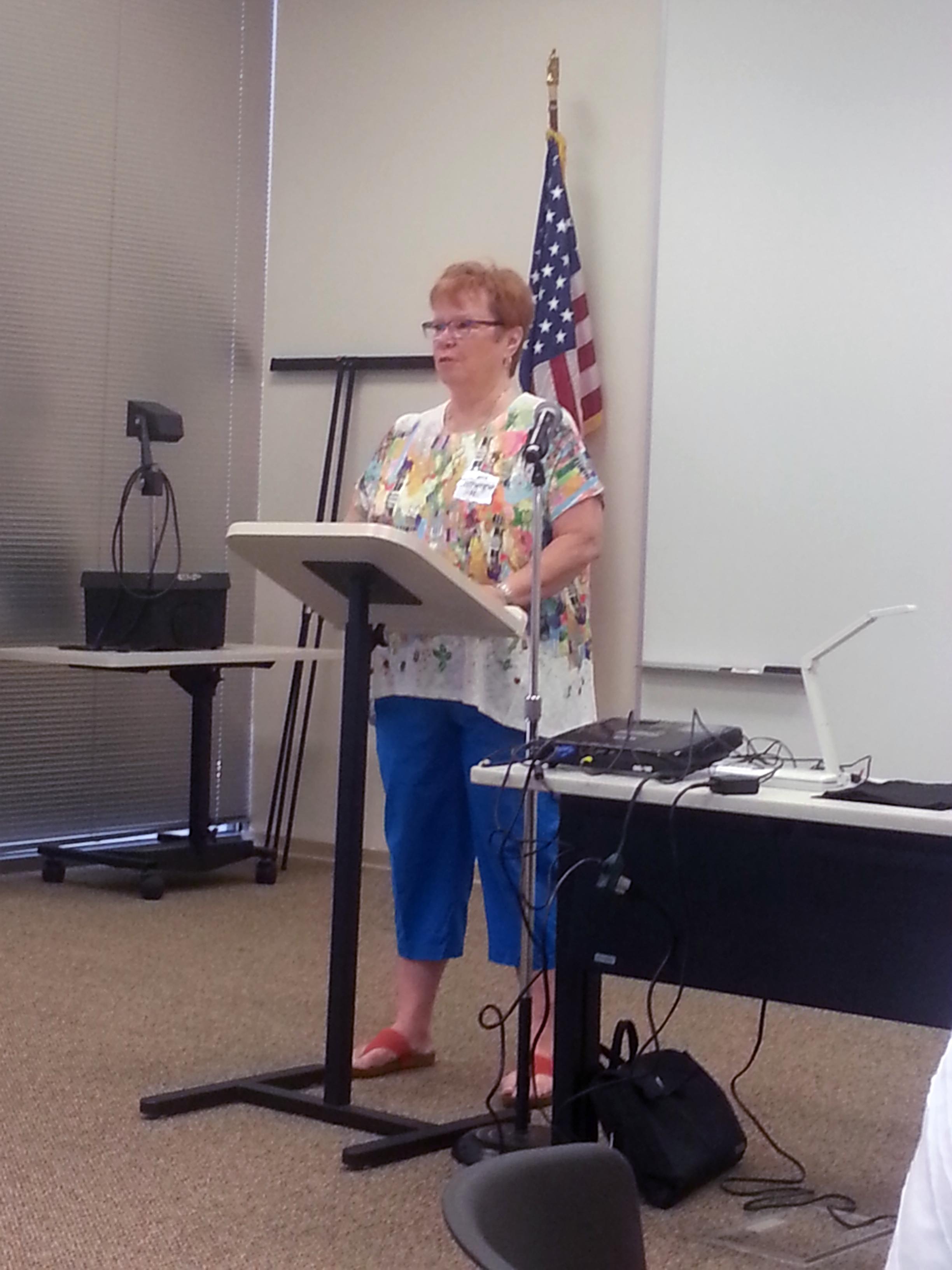 What can I say,  Cathy's years in teaching have served her well.   Thorough, to the point and entertaining too.   Great Job Cathy.
Kathy A. did a short demo on making buttons out of yarn and curtain rings.  I have seen something similar and have wanted to try it.  What Kathy showed seemed a little more to the point, so I will put curtain rings on my shopping list and then be ready to go next time I need buttons.
Amanda did a presentation on a few things you can do on Ravelry, and from the looks of the number of people who were on Ravelry from our group Saturday afternoon,  I think it inspired a few members to get signed up, or nose around a bit.  Yay Amanda!  Well done.
Reminders:  Next Saturday  August 20th,  Social knitting Southwest branch of the library on Ming Ave.  9am to noon.
Fair entries,  paperwork and entry fees.  August 26th.  ( I am pretty sure that is the date, but double-check that if you are entering.)
Next Guild meeting.  September 10th, 2016.
Knitting retreat. September 16th -18th.
Til next time,  (((((((((     )))))))))  Hugs to all.
Show and Tell